Got spaghetti on your favorite down jacket? Just pop it in the wash! We've been washing ours (and other people's) down jackets this way for years. It's tried-and-true for the Outdoor Research ultralight layers, North Face arctic parkas, and around-town Patagonia jackets.
If you don't want to do it yourself, check out our down jacket repair service.
The top three keys are a front-loading washing machine, the right detergent, and thorough drying. Here's the step-by-step process.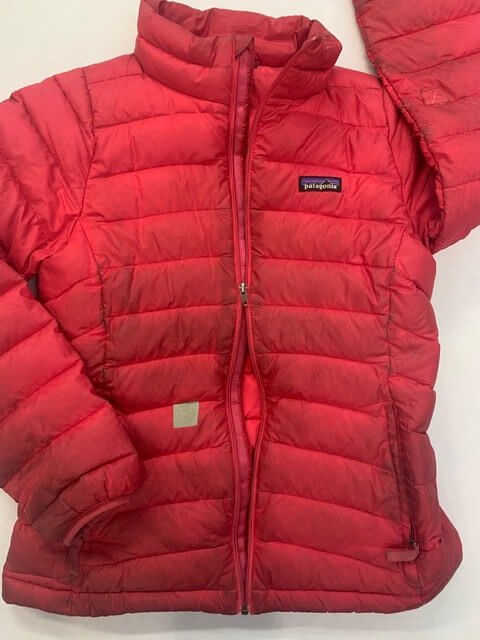 1. Find a Machine
Use a front-loading washing machine. The agitator in top loading machines can damage the baffles, so we recommend finding a laundromat if you don't have one at home. Avoid over-filling; we typically wash one to three down jackets together in one load, but not with the rest of our laundry.
2. The Detergent
We recommend Down Cleaner by GearAid. It's biodegradable, fragrance-free, enhances loft and cleans the most well-loved gear. You can also use regular powder detergent, however, liquid detergents soak into down and strip feathers of their natural oils, eventually causing them to break, absorb water, and become matted.
3. Wash 'em!
Set the washer to a gentle, cold or warm cycle with an extra rinse.
4. Dry
Dry on low heat for 90-120 minutes (or longer if it is a big item) with four to six tennis balls or wool dryer balls to help re-fluff your jacket. It will take longer than you think to fully dry on low heat, so if it is clumpy or smells like wet dog, don't fear, just keep drying it!
A Little Bit of Care Goes a Long Way
Taking the time to wash your down jacket not only keeps the outside shell clean, but actually helps it last longer. Over time, down compacts and looses its natural oils which can cause feathers to break. However, a good wash can help reinvigorate the feathers and increase loft.
Need Other Repairs on Your Down Jacket?
[/vc_column_text][/vc_column][/vc_row]