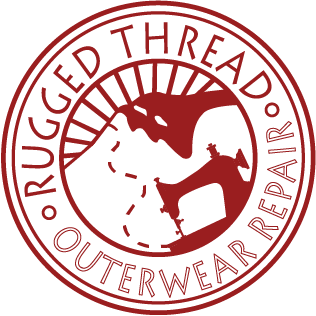 Outdoor Products Repair Technician
Location: Bend, Oregon
Type: Full-time or part-time, on-site
Overview:
Join us in converting Outdoor Industry textile waste into a repair economy! Rugged Thread is a national repair facility trusted by 30+ outdoor product brands like Burton, Kuiu, Gossamer Backpacks, Stio, and Trew. We repair technical outerwear, tents, bags and packs, sleeping bags, and tons of zipper work.
What you'll get to do:
Do you love to sew? Rugged Thread facilitates the growth of entry and midlevel sewists to become master craftspeople in technical outdoor clothing and gear repair, construction, and advanced sewing knowledge and skills. Repair work differs from production sewing as no two items are alike, and the learning continues. A repair technician is a physically and mentally engaging job requiring planning, learning, and retaining complex construction knowledge, problem-solving, and advancing machine skills. Becoming a high-skilled and knowledgeable repair technician with Rugged Thread creates opportunities for career path development, earning a competitive wage, reducing landfill waste, and building a circular economy.
This position requires physical mobility, the capacity to learn and retain new things, move large or awkward objects during the summer season, and transition from sitting to standing multiple times during a repair project.
Qualifications:
• Passion for sewing
• Capacity to learn and retain new techniques and sewing skills
• Some zipper-setting skills
• Ability to prove basic machine sewing skills, attention to detail, and quality craftsmanship
• Strong English writing and verbal communication skills
• Excellent vision
• Able to match color 
• Physical body health: the ability to lift 40 pounds, flexibility, and overall wellness to move with ease
• Hand dexterity
• Be an outdoor product user
• Exhibit professional and productive behaviors 
• Proficient basic math skills 
• Able to plan and focus on large or complex projec
Compensation:
The job position is paid hourly. A qualified journeyperson will start between $18 and $22/hour, while an apprentice level will start between $16 and $18/hour with evaluations at three, six, and twelve months of employment. Most new-hire technicians' productivity increases hourly wage by $1/hour at each assessment based on quality, efficiency, advancing repair complexity and breadth of work, plus team contribution. Experienced Master Repair Technicians can expect to earn $25+/hr. After 90 days of full-time employment, benefits include six (6) paid holidays and three (3) PTO days. After one year of full-time work, we provide five (5) paid vacation, and five (5) paid sick days. After two years of employment, paid vacation increases to ten (10) days.
Rugged Thread is an equal opportunity employer. We believe that diversity and inclusion are critical to the success of us as a company and as individuals. Respect, kindness, and open communication are three of our core values.